Essential Business Guide
Meet the experienced entrepreneurs behind the book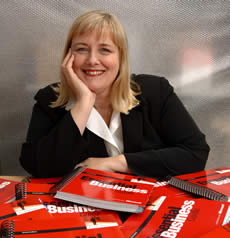 The Essential Business Guide was originally the brainchild of Julie Stanford who co-produced a local edition for Brighton and Hove.
It was while developing her own businesses that Julie saw the need for a publication that answered the questions business owners were often too busy to ask, or didn't know where to find the answers.
She was determined that the book would be well-designed and easy and quick to find your way around. Even the binding was important: 'It drives me mad when a book snaps shut as you're trying to read it and dial a telephone number!' says Julie.
The first edition was such a success that Julie decided to take the idea national and put a team together to meet the challenges.
The Essential team
At the helm is Julie Stanford, MIoD, who has run her own businesses since 1981. She built up her own graphic design company which for 15 years specialised in design for publishers. In 2000, she was one of the founder directors of a 'high-growth' export company, selling successfully into the US giftware market. Julie is Vice President of the Brighton & Hove Chamber of Commerce and Entrepreneur in Residence at the University of Brighton Business School.
Janette Whitney ACIB, MCMI, specialises in strategy and finance. She is the managing consultant of awardwinning business consultancy, Janette Whitney & Associates. Janette formed her business in 2000 after a successful 22-year career in banking, 12 years of which were spent specifically advising small and mediumsized businesses on growth and finance. She is a qualified member of the Chartered Institute of Bankers, writes business articles, and is a SFEDI accredited business adviser. Janette's expertise has also won her the much coveted 'consultant of the year' award.
Jane Priddis, BA (Hons), DipM, MCIM, Essential Business Guide marketing expert, set up her marketing strategy consultancy in 1987, and has experience in a wide range of industry sectors. She holds the Chartered Institute of Marketing Diploma, and is a full CIM Member and Chartered Marketer. Alongside her consultancy, Jane designs and runs management training, including in-house company and open courses. Since 1991, she has been a course leader on the Institute of Directors Diploma programme. She also holds a part-time post as Senior Lecturer in Marketing at Brighton Business School.
Essential editor Anna McGrail, MA, FRSA, helped to put the right words in the right order. Anna is a director of Content Consultants, an independent editorial agency that provides health content for print and web and manages www.BabyCentre.co.uk, the UK's leading pregnancy and parenting website. We hope the Guide helps you get your business where you want it to be.
What next?