Working with a specialist
Get tailored advice on the best software for your company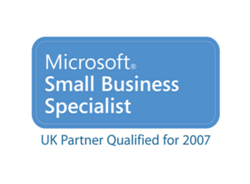 Microsoft Small Business Specialists are IT consultants that can help deploy and maintain information technology (computer hardware and software) within your business. They can offer advice to help you save money, and as a ready source of up-to-date knowledge, they can show you how IT can make a difference to your company.
Microsoft Small Business Specialists have demonstrated they understand - and can deal with - the needs of UK small businesses. They have passed an advanced technical exam and have access to support, training and resources from Microsoft. They can help you maximise the return on your IT investment - and, of course, ensure you only invest in IT when it is the right thing to do.
You can find a Small Business Specialist in your area by entering your postcode into our Consultant Directory. When available, Small Business Specialists will be listed in bold at the top of your search results.
By and large, our Small Business Specialists are small companies themselves. That means they understand the pressures you face when running a small business.
You can identify a Small Business Specialist by looking for the logo. When you see this, you can be confident you are dealing with a company that knows how to make IT work for smaller companies.
Microsoft is proud to recommend our Small Business Specialists; we believe they are best able to help smaller companies in the UK with their IT. If you have any questions about the certification or feedback on a service you have received, then please email msukpcms@microsoft.com.
Questions to ask your consultant
Before you use our Consultant Directory to find a Small Business Specialist who can help you, have a quick think about what you want from them. You're under absolutely no obligation to buy when you contact a consultant - they're not in the business of parting you from you money as quickly as possible. But if you find out some key things first, you can be confident you'll get what you need later on:
•

Does their experience match your needs?
Make sure they understand the hardware and software you use at the moment, and try and find out if they've worked with similar businesses before. If they're a Small Business Specialist, chances are they have, but it's still worth finding out. Speak to previous clients if you can.

•

Do they explain things well?
Jargon and long-windedness is not what you need - you've got a business to run, remember? Make sure you feel comfortable asking them questions, and be absoutely certain that you understand the answers.

•

Do they have time for you?
If you're embarking on a project, make sure the consultant can hit your deadlines. Find out if they'll be outsourcing any work - and get any guarantees in writing, as part of a proper contract.

•

Will they provide guarantees, training and support?
If you're looking to implement new hardware or software, you'll need to learn how to use it too. Get them to be very clear on the level of support they are willing to provide - if anything goes wrong, you don't want your business to suffer.
Our Small Business Specialists should be able to pass all these tests with ease. But every company's needs are different, so you need to be sure the consultant you choose to work with can cope with yours.
This list is adapted from the longer version in our Guide to Growing Business Productivity with IT. You can download a copy here - see pages 26-29.
What next?
| | |
| --- | --- |
| • | Our Consultant Directory lists Small Business Specialist Partners in your area. Enter your postcode into the box on the right hand side of this page to find one that could help you. |