Windows Vista Business
Microsoft Windows Vista is the new operating system that helps you keep your computer running smoothly and securely, even without dedicated IT staff. Microsoft Windows Vista provides powerful new ways to search and use your information and an improved ability to connect integrated technologies, windows networks, systems, and people - so you can focus on running your small business even more sucessfully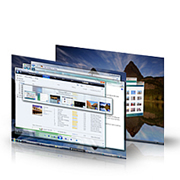 How to Buy
| | | | | |
| --- | --- | --- | --- | --- |
| New PC: New PC with genuine Windows Vista Business and Office Small Business 2007 pre-installed, from a trusted online retailer | X | X | � | � |
| New PC: Buy genuine Windows Vista Business or Office Small Business 2007 pre-installed on a new PC via a trusted online retailer. Alternatively purchase via a volume licensing agreement for additional benefits from your local IT advisor* | � | � | X | X |
| Existing PC: Check your PC meets the minimum PC spec requirements. Buy genuine boxed software from a trusted retailer. | X | X | � | � |
| Existing PC: Check your PC meets the minimum PC spec requirements. Purchase via a volume licensing agreement, such as Open Value Subscription via your local IT advisor* | � | � | X | X |
*Your local IT advisor
Microsoft recommends using an IT advisor to help you with your IT needs. Our Small Business Specialist (SBSC) partners are experts in IT solutions for small businesses.
SBSC partners can help you:
| | |
| --- | --- |
| • | Install, load and configure PC |
| • | Transfer data from old PC |
| • | Demonstrate how to use and get additional value from your software |
| • | |
Enter your postcode to find your local SBSC partner
Windows Aero and Windows Flip
Work efficiently
Windows Vista Business has an elegant new user interface, named Windows Aero, which is designed to deliver new levels of efficiency for any business user. This new interface makes it easy to navigate through the operating system and from application to application. For instance, Windows Aero helps you juggle multiple tasks at once by providing a three-dimensional, real-time, animated view of all your open applications and documents.
In addition, Windows Vista provides two entirely new features to manage windows: Windows Flip and Windows Flip 3D. Flip allows you to flip through open windows, providing a live thumbnail of each window, rather than just a generic icon and file name. With Flip 3D, you can use the scroll wheel on your mouse to flip through open windows in a stack, and quickly locate and select the one you want to work with.
Instant Search
Work efficiently
With Windows Vista, you no longer have to remember where you store every file. Instead, to find a file, you need to only remember something about it, such as a word contained within a document. Powerful, integrated desktop search capabilities help you find just about anything on your computer quickly, without having to search for it by browsing through folders.
Windows Vista firewall and Windows Defender
Protect your data
Windows Vista Business includes new technology and tools to ensure your PCs are always up-to-date, more secure, and running smoothly. Windows Vista firewall helps protect you from hackers, viruses, and worms that try to reach your computer over the Internet. Windows Defender helps protect you against spyware and other potentially unwanted software.
Windows Meeting Space
Get connected
Windows Meeting Space allows groups to instantly and securely form a shared, common session for up to 10 people in the same room. Using Windows Meeting Space you can "project" your desktop or application to other participants or to any Windows Vista compliant Network Projector, share a file with a group in a common work area, and jointly edit the file. Even if a network connection is not available, you can effectively collaborate with others, using an ad-hoc mode.
Minimum Supported System Requirements
| | |
| --- | --- |
| • | 800 MHz 32-bit (x86) or 64 bit (x64) processor |
| • | 512 MB system memory |
| • | SVGA (800x600) GPU |
| • | 20 GB of hard drive capacity with 15 GB free space |
| • | CD-ROM drive |
Better together
Find out why Windows Vista Business and Office 2007 gives your business a new way to work, a better way to work.